We are proud to announce our new FULL FACILITY GENERATOR has been switched on!  Never worry about the loss of air-conditioning, heating or fresh air at our facility.  Our new Honeywell generator can run the entire facility in the event of a brown out or black out.
What Is

D

aycare?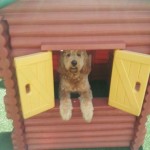 Doggie daycare is a social environment where dogs can come during the day to play with other dogs, exercise and receive attention from our loving staff. After their day is through, they go home to spend a quiet, peaceful evening with their families.
How Do I Start?
The first step to enroll into Doggie Daycare is to set up a Trial Day. Trials are by appointment only, usually scheduled Monday – Thursday at 12:00 p.m., and are limited to one per day. If your pet passes the evaluation, he/she will be welcomed back to our Daycare.

(Yippee!) Unfortunately, aggressive dogs will not be welcomed back.

(Sorry).



Health Records:
All dogs participating in any of our services are required to have the following vaccinations before they can be admitted to Preferred Pet Care:
1. Bordetella (Kennel Cough)
2. Rabies
3. Parvovirus
4. Distemper
5. Canine Influenza – For dogs getting this the first year they must have both boosters. For more info on Canine Flu click below.
We recommend but do not require the Corona vaccine.
Do not apply topical flea/tick treatments within 24 hrs of bringing your pup.
Preferred Pet Care must have a copy of all the required, updated health records prior to admittance.  It is the customers responsibility to ensure the records have been sent by their veterinary hospitals.
OFFICE HOURS:
Monday thru Friday:  7:00 a.m. to 7:00 p.m.
Saturday & Sunday:   9:00 a.m. – 12:15 p.m.
1:00 p.m. – 6:00 p.m.
Daycare Hours:
Monday – Friday 7:00am – 7:00pm
Saturday & Sunday 9:00am – 6:00pm
RATES
Half Day of DayCare (Up to 5 Hours) – $25.00 per day plus tax
Full Day of DayCare (5-12 Hours) – $35.00 per day plus tax
Each additional dog from the same household – $13.00 per day plus tax
ACCEPTED PAYMENT METHODS:
We accept VISA, MASTERCARD, DISCOVER, cash and personal checks. Payment is expected on the day services are rendered.
DISCOUNT PACKAGES:
You have the option to purchase a prepay package at a discounted rate. Please note, all prepay packages will have a period of time associated with them after which they expire. All prepay packages are offered in both full day and half day options.  The following options are available:
15 Day Packages:
Receive a 15% discount with a six (6) month expiration.
10 Day Packages:
Receive a 10% discount with a four (4) month expiration.
5 Day Packages:
Receive a 5% discount with a two (2) month expiration.
**Refunds will not be given for prepay packages and they may not be applied towards other services (i.e. boarding, grooming services, retail etc.).
Late Pick-up:
Please note that our daycare closes at 7:00 p.m. Mon-Fri and
6:00 p.m. on Sat & Sun. You must pick up your pet(s) by closing time.  Preferred Pet Care, Inc. reserves the right to board your dog, if you do not pick up by closing.  If this happens, you will be charged for the overnight boarding.
TAXI SERVICE:
We offer Taxi Service to some local areas such as West Orange, South Orange, Livingston, Maplewood, and Millburn/Short Hills. The Taxi Service is offered to those who have passed their Trial Day and is subject to availability on a day-to-day basis. You may set up a permanent schedule with our office for pick-up, drop-off, or both on available days. Please inquire with us about availability.
You may also call to add-on for Taxi Service. Once we receive your request, we will check on availability and will notify you if we will be able to accommodate your request. We require at least 24-hours notice for add-on requests as well as cancellations. Failure to cancel within 24-hours will result in a charge for the requested taxi service(s).
The cost for Taxi Service is:
Pick-Up or Drop-Off — $6.00 each direction plus sales tax
Taxi Service is not subject to the discount when purchased with a punch card.
233 Rutgers Street
Maplewood, NJ 07040
973-762-7007
fax: 973-762-5618