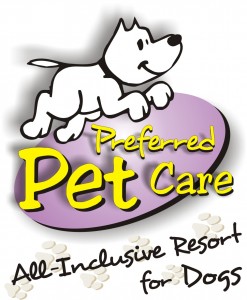 Our 70 KW full facility generator has been switched on!  Never worry about the loss of air-conditioning, heating or fresh air at our facility during your dogs stay.  Our Honeywell generator can power our entire facility in the event of a brown out or black out.
We are also proud to announce the completion of the installation of our new turf for our outdoor play yards.  The dogs now have plush Classic K9 Grass® to run around on.  "The artificial grass designed specifically for dogs"!  It has AlphaSan® antimicrobial protection built into the blades to help keep the grass clean and safe, and a no infill design for cleanliness and comfort. 
Preferred Pet Care's All- Inclusive Resort for Dogs offers daycare, boarding, grooming,  spa services and a retail area.  We are situated on one acre in Maplewood NJ, conveniently located less than five minutes from Rt. 78 and fifteen minutes from Liberty International Airport.
Your dog can spend the day playing and running with friends in a social environment that has been designed for safety and FUN! With large open areas both indoors and outdoors, your dog will get all the exercise he/she needs.
When your pup gets tired he/she can rest in a room in our climate-controlled
facility or outside basking in the sun.
Here at Preferred Pet Care we focus on the individual.  We understand that there is no one size fits all program and that just like you, your dog is an individual.  We evaluate all the dogs that come to play or stay and devise a routine that fits their personality and lifestyle.  There is no need to feel guilty anymore about leaving your dog home alone all day while you're at work or on the go.  We even offer taxi services to some of the surrounding towns for our daycare dogs on our doggie bus.